As part of a collaborative effort between myself and
Stan
from
Hitman Paintball
(you may know him from several of his very popular Youtube videos), we got together and tried to come to a compromised consensus as to what the top ten Milsim markers are/were. Steve from
68Caliber
was kind enough to agree to assist in the syndication of this list, and will also be hosting the feature on his site.
These were the criteria used:
- Woodsball/Milsim oriented markers
- Made by an established company
- Markers could not be: a pump, handgun, special edition, limited run, or custom made
Alright, on to #10 on our list:

#10: Tippmann SMG 60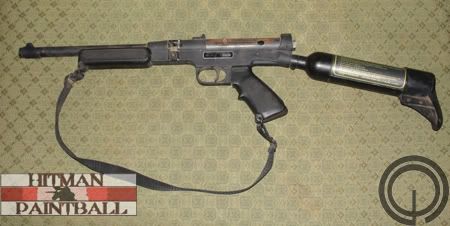 This .60 caliber bad boy was a real game changer when it was first released in 1987. It boasted fully automatic firing and a clip fed loading system. This first mass produced marker to break the pump/single action barrier. It had the ability to fire in both semi auto and full auto. It was also one of if not the first marker to emulate a real military service weapon making it the grandfather of all Milsim markers. Unfortunately it suffers in the performance department from the use of stripper clips which were cumbersome and not very fast or easy to reload compared to other markers. Also it may be worth to note it was banned at many fields due to safety concerns and Full auto mode (which was viewed as unfair and unsafe at the time).
This article is a cooperative effort by GreyOps Blog and Hitman Paintball Reviews. You can find out more about these authors at:
Thanks for reading and happy holidays!
*All images obtained through limited license to modify and display as per Photobucket's Terms of Use (6.1).