The
list of top ten milsim markers
continues! On to number 4:
#4: Smart Parts SP8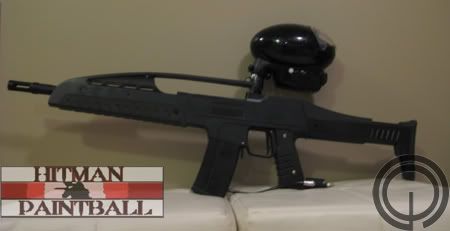 The Sp8 was the first mass produced "Next Generation" Milsim marker, meaning it escaped the gas blow back internals and married a speedball performance core into a tactical exterior body. The Sp8 boasted features out of the box far ahead of its time in the milsim world such as break beam eyes, spool valve internals and programmable electronics with 4 firing modes (Semi auto, Ramp, 3 round burst, and True full auto). Unfortunately it never lived up to what it had to offer, and many Milsim players disliked the plastic body and double trigger. It was also overly complicated to clean and service.
Cost when new: $425
This article is a cooperative effort by GreyOps Blog and Hitman Paintball Reviews. You can find out more about these authors at:
Thanks for reading and happy holidays!
*All images obtained through limited license to modify and display as per Photobucket's Terms of Use (6.1).