The
list of top ten milsim markers
continues! On to number 5:
#5: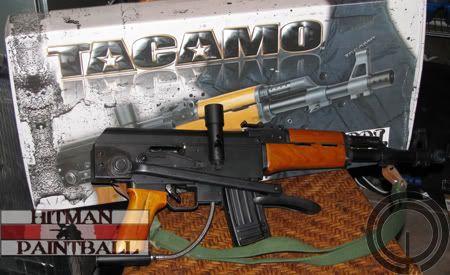 This marker has seen its share of troubles when it comes to having a dedicated distributor, having changed hands and branding several times. Because of its stack tube blow back internals it is hardy and easy to service, just like a real AK-47. Word on the street is that it was manufactured in the same facilities as the Chinese Type 56 assault rifle and featured real steel parts. Oh and the wood wasn't fake!
Cost when new: Varied depending on distributor, usually around $300
This article is a cooperative effort by GreyOps Blog and Hitman Paintball Reviews. You can find out more about these authors at:
Thanks for reading and happy holidays!
*All images obtained through limited license to modify and display as per Photobucket's Terms of Use (6.1).