The
list of top ten milsim markers
continues! On to number 1:
#1: BT TM Series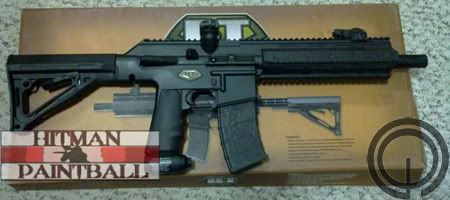 BT recognized what scenario players had been screaming for: a Milsim marker based off of high end speedball internals complete with break beam eyes, offset feed to have a clear sightline, single trigger, selector switch to change fire modes, no external hoses, and compatible with auto cocker threaded barrels. BT heard this and delivered the TM series leaving the single tube blowback platform behind. Some player criticized the TM7 for having a plastic frame, so the Tm15 adopted the X7 style lightweight magnesium frame. Both are compatible with the Ripclip which combines A5/X7 hoppers with a high end electronic loader, but can also use standard hoppers. The TM series really is the most modern Milsim marker and takes the #1 spot home, good job TM series!
The Tippmann X7 Phenom also contended to this position but lost because of the lack of anti-chop eyes and its limited hopper choices.
Cost when new: $460 (TM15)
This article is a cooperative effort by GreyOps Blog and Hitman Paintball Reviews. You can find out more about these authors at:
Thanks for reading and happy holidays!
*All images obtained through limited license to modify and display as per Photobucket's Terms of Use (6.1).